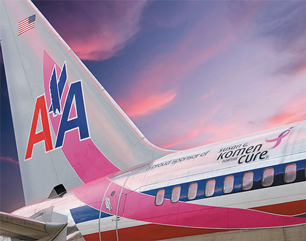 By Donald Wood
To show support for October being Breast Cancer Awareness Month, American Airlines and its more than 100,000 employees have once again launched their breast cancer awareness initiative called Be Pink.
Be Pink was started to help American and its workers raise money to fund breast cancer research through Susan G. Komen. Throughout the month of October, customers of the airline will be able to join employees in an effort to promote awareness and support.
Passengers who use American Airlines this month and make a $25 donation to the company's Miles for the Cure program will be eligible to earn 20 AAdvantage reward miles instead of the normal 10.
In addition to the rewards miles, customers can also expect to see airline employees wearing Be Pink accessories, like pink ties, socks and scarves. The flight crews will also be serving Be Pink-themed food and drinks, including lemonade and other menu items.
American Airlines is also the Official Airline of Susan G. Komen, and has contributed to breast cancer research for over 30 years. In 2014 alone, the airline, its employees and customers helped raise more than $1 million to support the cause.
To help the cause and make a donation, check out American Airlines official website.
Steele Luxury Travel
www.SteeleTravel.com