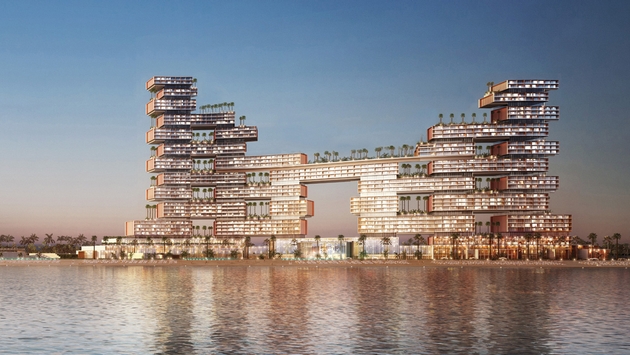 By James Shillinglaw
If you thought resort development was slowing down in the United Arab Emirates, think again. They are still building in Dubai!
The 1,539-room (166 suite) Atlantis The Palm Dubai, located on the man-made Palm Island, is adding The Royal Atlantis Dubai, a completely separate property just down the beach. The new resort, which also is the first building with residences in the complex, is expected to open in December 2017. It will have 800 rooms and 231 residences. Royal Atlantis guests will have access to the facilities for both resorts.
The new resort also will be quite different architecturally from its sister property. Instead of grand, palatial resort, the Royal Atlantis will look like a series of glass boxes stacked on each other in a very modern, high-tech design, albeit one that fits in with some of the amazing structures around the rest of Dubai.
The $1.4 billion resort expansion, backed by Investment Corporation of Dubai and Kerzner International Holdings Limited, developer of Atlantis, is designed by Kohn Pedersen Fox Associates with interiors by GA Design. It also will have luxury residences designed by Sybille de Margerie Design, with access to restaurants and entertainment.
The 46-story Royal Atlantis, with spectacular ocean and Palm Island views, will have a revolutionary theme merging fire and water, a new Sky Pool 90 meters above The Palm, and new marine animal experiences.  Guests and residents will be able to enjoy private gardens and private infinity pools overlooking the ocean and The Palm, new top restaurants with menus from celebrity chefs (including one from Gordon Ramsay), and new entertainment experiences. Luxury retail boutiques will offer a wide selection of top products. A Givenchy spa will feature traditional and holistic practices fused with modern spa therapies. Children can discover exotic marine life, take cooking lessons and enjoy the latest in gaming. 
"This Dubai property is a different offering," said Ravini Perera, senior vice president-sales, marketing and PR for Atlantis, speaking at a press event in New York on July 16. "The experience is going to be very, very different."
Beyond unveiling plans for the new resort complex, Atlantis the Palm, which opened in 2008, has begun a new campaign to attract more guests from the U.S. Travelers from the U.S., who constitute roughly 5 percent of the resort's guests, booked 20,000 room nights last year, but Atlantis officials are trying raise that number significantly in the coming year and beyond.
At the presentation in New York City, Perera stressed Dubai's safety as well as its shopping, cuisine and myriad activities as reasons to visit the country—and stay at Atlantis. She also pointed out that Atlantis has a large number of activities and experiences to engage guests, including 23 top dining venues, such as Nobu, Rondo Locatelli and a Gordon Ramsey eatery set to open in October. It also features a two-kilometer beachfront, a large waterpark, an aquarium and a dolphin encounter, among other things.
Atlantis caters to both families and couples with a wide variety of room categories with rates ranging from $300 up to $35,000 a night (for the 9,000-square-foot Bridge Suite between the property's two towers).
At the same time, Perera said Dubai is still largely a stopover destination for U.S. travelers heading to southern Africa, Asia and Oceania, so most visits are only for short durations averaging 4.5 nights or less. European guests, on the other hand, view Dubai and Atlantis as a destination resort where they can spend seven to 10 days enjoying the facilities.
Perera said Atlantis The Palm Dubai is a far more international resort than its sister Atlantis Paradise Island in the Bahamas, with many nationalities staying at the property and a very diverse staff from many countries. One thing that it doesn't have, of course, is a casino, which is prohibited in Dubai. It makes up for that by offering more culinary options and even more activities, in addition to the unique desert-sea ambience that Dubai features overall.
Steele Luxury Travel
www.SteeleTravel.com