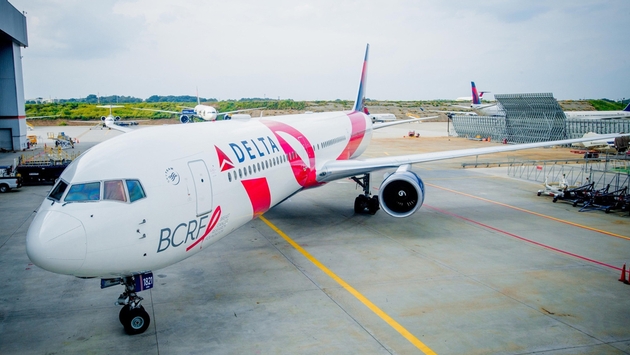 By Donald Wood
October is Breast Cancer Awareness Month, and Delta Airlines is showing its appreciation for survivors by conducting its 11th annual "Breast Cancer One" employee survivor flight on Thursday.
The annual flight featuring employees who have dealt with breast cancer will mark the beginning of Delta's month-long campaign to generate awareness and raise funds for the Breast Cancer Research Foundation.
Aboard Breast Cancer One, more than 140 breast cancer survivors will take their seats on the pink plane to celebrate its first international route with the new color scheme, traveling from New York City to Mexico City.
Along with the employees, Delta officials and BCRF executives will also be on the flight. The pink plane will travel from New York City's John F. Kennedy International Airport to the Mexico City International Airport, with celebrations at both facilities planned for the breast cancer survivors.
In addition, Delta is also offering customers who are breast cancer survivors or currently under treatment for the disease, and their guests, the opportunity to join the flight and the festivities.
Since Delta began the flights dedicated to Breast Cancer research in 2005, the company and all of its supporters have raised more than $9.2 million for the Breast Cancer Research Foundation, including $1.3 million in 2014.
Delta Vice President Sandy Gordon released a statement about the company's dedication to breast cancer research, saying, "As Delta continues to focus on expansion in Latin America and the Caribbean, we are proud to showcase on a global scale, our commitment to finding a cure. Our 80,000 employees worldwide look forward to this campaign each year and rally together to find new, innovative ways to generate awareness and funds for BCRF. We are grateful for our employees and customers for their continued passion and support as we work together to eradicate breast cancer."
Steele Luxury Travel
www.SteeleTravel.com