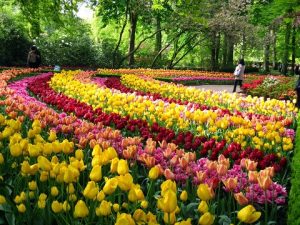 It's the lung of Manhattan, but if you think Central Park is just a green space with some ponds, you clearly have not been to it.
Reaching from 5th to 8th Avenue, and from 59th Street up to 110th, Central Park initially wasn't even supposed to exist. In 1811, and way before it was completely covered in buildings, city planners had first envisioned Manhattan as a "city island" carved up into nice, neat blocks from stem to stern. It wasn't until the 1850s that the inclusion of a large, central park was thrown in as a desperately-needed public space. Construction began in 1850, was completed in 1873, and then New York did everything it could to ignore the thing. By the 1970s, the park was in such a state of disrepair that it was infamous as being a crime hotspot.
Salvation came in 1979, and by 1980, the 843-acre park was under a serious renovation that would last a decade. Lawns were reseeded; trees removed, pruned, or planted; bridges refurbished, and the waterworks — because every pond and stream in the park can, literally, be "turned off" — was repaired. Today, the park is one of the biggest draws of the Big Apple. There's a zoo (famous for its gay penguins), a pavilion that is an amusement park in summer and a skating rink in winter, two theaters, a merry-go-round, the John Lennon memorial at Strawberry Fields, and even a castle.
If you are into your gay history, you'll know the Central Park played a big role in New York's gay life back in the day as one of the safe places gay men could cruise and even hook up without ever-present prying eyes. And guess what? It still is.
Across from Bethesda Fountain (you saw it a lot in "Angels in America") and the rather unoriginally-named Lake is The Rambles, a sort of managed forest where things are allowed to grow as they will proved nothings gets to cray-cray. The woods are riddled with pathways, some paved and others not, and you'd be amazed how quickly a person can disappear into the trees while being no more than 20 feet from a tourist group. By day, The Rambles is a refreshing, sun-dappled woodland walk. By night, however, it's biology of a different sort. Enough, I should say, for regular patrols by the NYPD, should you readers be getting any one-with-nature ideas.
Anyhoo, the park is bustling all year, although summer, as to be expected, is busier than winter. Tours are fairly regular and free, but the park is so huge that no tour does the whole thing in one go. There are "iconic tours," and others dedicated to various sections. It's worth going, and at only 90 minutes, no tour will eat up your day. If anything, you'll find out where The Rambles are…
For more info, go to centralparknyc.org.