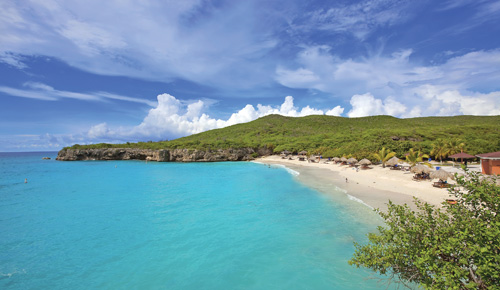 It's not every day a Caribbean island throws a pride party, so when they do, it is time to take notice.
Walk through its ginger-bread capital of Willemstad, and you'd think Curaçao was in Europe — and that would be a most astute observation. While just 40 miles off the coast of South America, and two and half hours from Miami by air, the island is an intrinsic part of the Netherlands and belongs to the same speckle of islands that more-famous Aruba does. The fact it is Amsterdam in control is one of the reasons Curaçao is so evolved in its LGBTQ outlook in a sea famous for the exact opposite (hi, Jamaica).
Kicking off September 30 through October 4, Curaçao Pride brings the colors of the isles to an experience notorious for being colorful. Attendees take note: Most of the action takes place at the Floris Suite Hotel, including the Oct. 2 Pride Party and the Oct. 3 White Party. One of the premier luxury addresses in Willemstad, it goes without saying here is where you should book…if only because it will make it easier getting back to your room after all the rum you're going to be putting down. Among other things.
Moving right along, of all the parties and meet-and-greets, the biggest blow-out is, of course, the last one. The Navigaytion Sea Parade on the yacht
Insulinde
with tunes courtesy of DJ KinkyRinky takes the party to the azure waves with the pastel-colored waterfront of Willemstad as a backdrop, before bringing things back on land for the afterparty. All in all, it's clear the powers that be are trying to place
Curaçao as the gay capital of the Caribbean.
And it has the stones to do it. This is not a place that goes gay once a year just for show. One of the reasons the Floris takes such a big chunk of center stage is because its Rainbow Lounge is a veritable hub of guy on guy action on the island. And it is not without competition: The
Otra Cosa bar, Mambo Beach on a Saturday night, Cabana Beach on Friday night, and Wet & Wild on Sunday night all make for a good time in the Caribbean town tonight, and in a town that isn't all that large.
Curaçao is going out of its way to make itself a gay destination.
And let's reward them for their efforts, I say!
Some of the events have a cover fee, so be sure to do your research. For more information, go to curacaopride.com and gaycuracao.com. Contact Steele Luxury Travel for all your Curacao travel arrangements at 646-688-2274