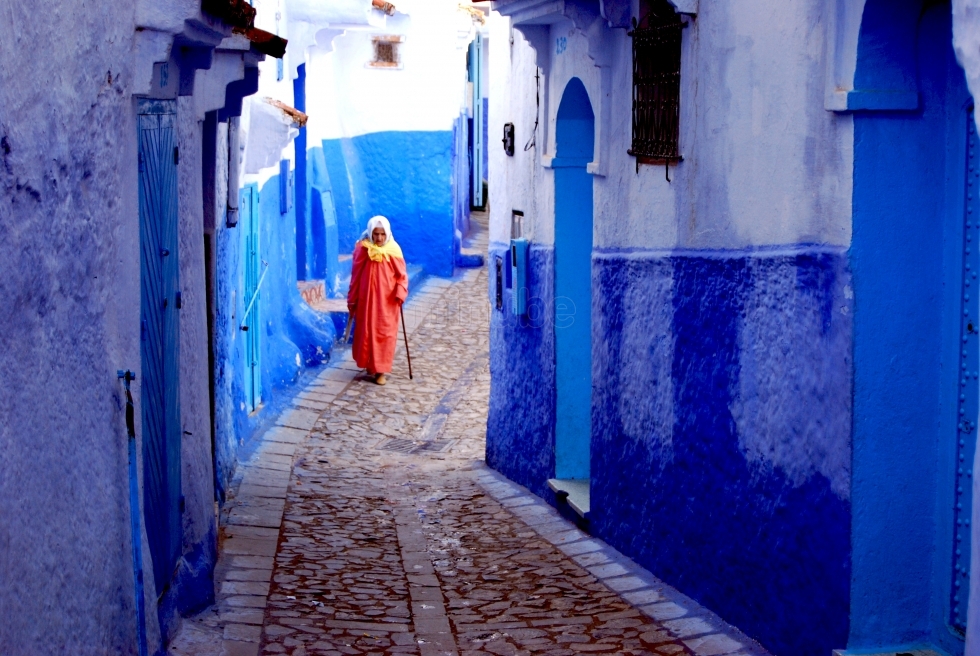 Chefchaouen proves that a little paint goes a long way.
Go to Morocco and you will notice a fairly uniform color scheme: White. It is not to say that the country is overly fond of the hue, but rather good old-fashioned thermodynamics: White reflects more light (and thus, heat) than it absorbs, and when your house is under the sun for nearly 300 days a year, anything to keep it cool is given a fair shake.
So this is why Chefchaouen (shef-SHA-wun) is such a standout. It's blue. But not just any kind of blue. It's every blue. Dark, light, middle, pale, rich. High up in the Riff Mountains near Tangiers, it is cool enough that the whole white-thing doesn't necessarily have to apply. So the women of town — they control the homes and what they look like — got together and decided to jazz things up. Because the town owes its existence to a spring, blue was decided on.
The ironic thing is, the shade of blue they used is the same throughout town, somewhere around "robin's egg." But here is where things get fun: As the light of the day changes from dawn to noon to dusk, the hues seem to change. In direct sunlight, it is a brilliant baby-blue color. But go into the shade, and suddenly it's azure. Walk into a tunnel, and we are talking sapphire and navy. It's all very aquatic.
And it worked like gangbusters: What had once been a fairly nondescript village suddenly became one of the most popular off-track places to visit in Morocco. Hotels, sprang up, and some pretty outstanding restaurants like Morisco put Riff cuisine on the map. I suggest the all-in-one Ryad Lina, the best place to stay and eat in town.
The best thing to do once you get there is just walk and wander. It's a small place, so getting lost in Chefchaouen would actually take a lot of effort. At the center of town is the Kasbah, or "Kasabah" in the local lingo, that goes right back to the North African medieval times (closed on Tuesdays, FYI), and around it is the main plaza of town where all sorts of shops and eateries offer a genuine Riff-Moroccan experience.
But just so it is said, you are in a conservative mountain village. That is, things pretty much drop dead around 10 PM, and there is no bar scene to speak of (I mean, none at all). However, because you will have been walking all day, an early night might not be such a bad thing.
And with the morning, a hue of blue you have never seen awaits. Contact Steele Luxury Travel to make all of your Moroccan travel dreams come true!
www.SteeleTravel.com