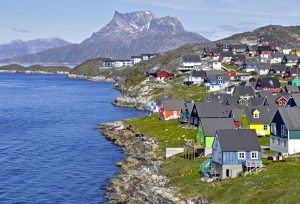 It is a gay pride staple: nudity! I'm talking Speedos, fig leaves, and bare chests stretching as far as the eye can see. Which is why Nuuk Pride is such a disappointment — but as this is Greenland, let's cut the boys some slack.
Check your maps: Frozen Greenland is actually a part of very liberal Denmark. Long inhabited by the Inuit, Norse settlers showed up in the 10th Century, vanished by the 15th, and reestablished themselves by the 16th. In 1907, the island formally became part of the Danish Kingdom, with all the rights and responsibilities therein ever after, including LGBT equality. So while it may be cold, Greenland is as warm and welcoming as Copenhagen.
On the southwestern coast, Nuuk is the Greenlandic capital and largest city, with a population of around 17,000. Modest as that is, the city still prides itself on its gay population, and every June throws a pride-fest. However, considering average June temps come in at a brisk 43º F, have patience if you are jonesin' for a flash of hot Artic skin. That being said, the parade and parties have everything you would expect: hot boys, pride aplenty, and good times for all (albeit indoors).
And yes, Nuuk has a gay club — two, actually. In a town this small, ALL clubs and bars tend to pull double duty, so don't be too surprised if the crowds at Manhattan and Magiske Mr. Mox are particularly diverse, FYI. That the gay clubs have the best music, drinks, and people is a worldwide phenomenon. Nuuk Pride is, however, decidedly informal; after the parade (it's short), various cliques head off to the bars or house parties. Compared to the mammoth prides of New York or Toronto, with official before-, during-, and after-parties, to say nothing of their respective parades, Nuuk is downright quaint. The upswing is that in Greenland is far from being a corporate event. Just show up and have a good time.
Now, if you came all the way to Greenland just for the gay life, they'd be thrilled and you'd be freakishly easy to please. In Nuuk there is the Greenland National Museum, the Katuaq Cultural Center, and the Nuuk Art Museum, and the locals often take advantage of the long summer days at Qornok, a scenic point at the mouth of the fjord fronting Nuuk. Nature in all its awesome majesty is never too far away from anywhere in Greenland, and if you pack a good pair of hiking shoes, wander over the wild landscape along the waterfront or inland behind the city for views that pretty much set the standard.
Ready to pack your suit and hang with some Nuuk natives? Contact Steele Travel at info@steeletravel.com or 646.688.2274 to start planning.