Live Your Indulgence, in Asbury Park at ASCENSION 2017!
Steele Luxury Travel is offering an exclusive STEELE discount code for party tickets and hotel bookings during Ascension in Asbury Park, NJ August 4-6, 2017!
USE CODE STEELE AT CHECK OUT FOR A $50 PARTY PASS DISCOUNT AND 25% OFF YOUR ROOM AT THE ASBURY HOTEL!
www.AscensionParty.com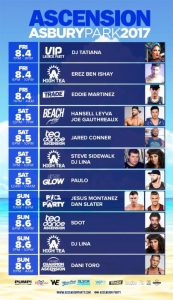 Thousands of men and women from around the globe will flock to the sun drenched Jersey shores in August for the summer's wildest gay weekend of music, dance and friendship. This year's Ascension Party takes place in the beautiful beach town of Asbury Park. The three-day festival begins Friday, August 4th with the VIP cocktail party, followed by ten additional parties including an underwear party, a beach party, a pool party and more!