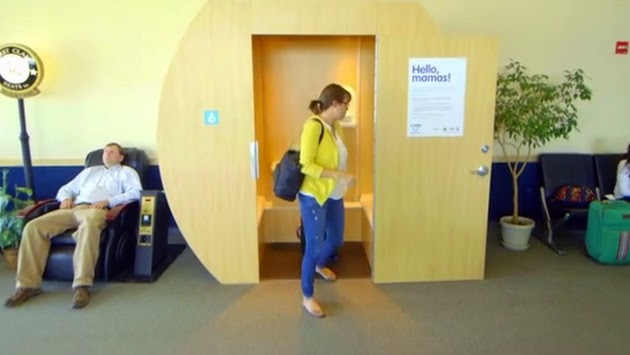 By Donald Wood
Breastfeeding in public has become a hot-button issue in recent years, and General Mitchell International Airport in Milwaukee, Wisconsin, is taking care of nursing mothers by installing three self-contained breastfeeding and pumping stations.
According to Harriet Baskas of USA Today, the three pod-shaped units will have, "comfortable seating, electrical outlets and a fold-down table and will be available free of charge." The first unit will be located pre-security and the other two will be post-security.
The units were designed and manufactured by Burlington, Vermont, company Mamava.
General Mitchell International Airport spokeswoman Pat Rowe spoke to Baskas about the addition of the nursing stations and how they will be a huge help to mothers:
"While we're a very family-friendly airport, we saw an increasing need to accommodate traveling moms who are nursing or who need to pump to keep on a schedule. This is a product that is specifically designed for that purpose and we see it as an investment in an amenity that fulfills an important need for traveling moms. A mom can let herself in, lock the door, nurse or pump in private and let herself out."
The addition of lactation pods is a relatively new phenomenon, with General Mitchell International Airport being the first airport in the United States to support the Mamava brand by purchasing multiple stations.
Mamava CEO Sascha Mayer told Baskas that the company has received an order for 11 more units from the Port Authority of New York and New Jersey. The plan is to have one station each in JFK, LaGuardia and Newark Liberty airports by Mother's Day.
There are now also discussions about adding pods to Atlanta and Houston airports.
Steele Luxury Travel
www.SteeleTravel.com