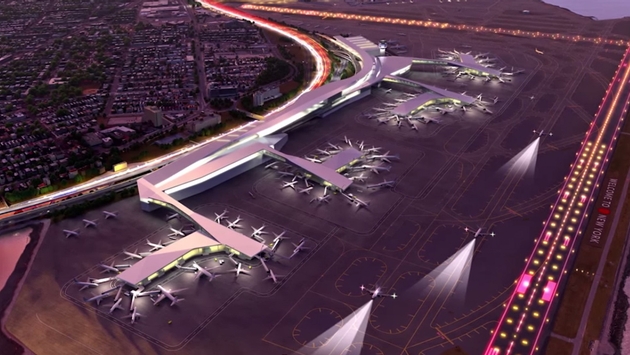 By Rich Tomaselli
A year after comparing New York's LaGuardia Airport to going through "a third-world country," Vice President Joe Biden joined New York Gov. Andrew Cuomo today in announcing a $4 billion makeover for the airport.
More than just a makeover, really.
The plan calls for LGA to be completely demolished and rebuilt within five years. Cuomo spoke at a luncheon at the airport with Biden, whose office helped expedite the plan.
"There is no way to fix this. We need to literally tear it down and rebuild it," Cuomo said. "It's not a plan, not a sketch, not a dream, not a vision, it's action."
The ambitious plan will include a 200-room hotel and conference center, new state-of-the-art security, and the terminal will be moved 600 feet closer to the Grand Central Parkway in the borough of Queens in order to create more runway and gate space.
So far, plans are calling for one, singular terminal that will have connections to mass transit and a ferry system, instead of the usual sprawling mix of multiple terminals.
Taxes will be used to pay for about half the $4 billion bill, and private funding will cover the other half, though officials said the project will create 8,000 construction jobs and 18,000 permanent jobs.
According to the plan, the new LGA will be able to comfortably process 35 million passengers a year. At the moment, the outdated facility is bursting at the seams trying to accommodate the 27 million fliers who pass through every year.
"It's slow, it's dated, it has a terrible front-door entrance way to New York," Cuomo said.
He added, "Welcome to the new LaGuardia Airport. This is what New Yorkers deserve and have deserved for a long time. And now we're going to get it."
Steele Luxury Travel
www.SteeleTravel.com