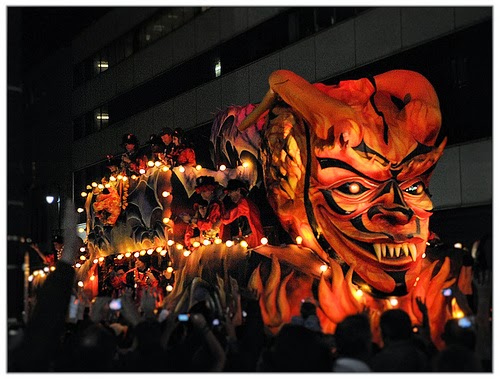 When it comes to costumes, Halloween in New Orleans in like the Comic Con in San Diego. This is not the land of corner-store costumes—oh, no. You can blame the voodoo or Anne Rice and her sparkle-vampires, but the Big Easy goes bonkers for this holiday.
A New Orleanian Halloween is not as infamous as the Southern Decadence circuit party or as institutionalized as the signature Mardi Gras revelry, but this is a town where any excuse for a party is a good one. Think of Halloween as the third anchor of the New Orleans yearly gay party cycle.
So here's the nitty-gritty: For the gay boys, Halloween in New Orleans is…"Halloween in New Orleans." Yep, that's what it's called. Not the most original moniker, I know, but what they lack in a titillating title they make up for in some of the best parties the city can whip up. And in New Orleans, that is saying something.
HNO takes place the final week October, and kicks off with the Lazarus Ball—a sly reference to Project Lazarus, an HIV/AIDS health care service, for which the whole 4-day event is all about. From there, you have a club night, a "main event" and a hair-of-the-dog-that-bit-you brunch wrapping things up. Provided you can drag yourself out of bed or remember where on God's earth you are.
That main event is usually the showshopper. Called "Descent" and filled end to end with all sorts of people going to hell in a handbasket. This is night the costumes and body-painting comes out in full force, and you may as well start crossing yourselves now. While the theme of the night changes from year to year, let's face facts: This is a Halloween party. Fiends, demons, and other assorted horny little devils are the party's hallmark. And leave it to the Cajuns to make zombies come off as sexy. Rigor mortis never looked so good.
New Orleans is all of two hours from Miami International, although you brave souls can make it a road trip provided you can stand being in the car with the same people for 13 hours. Point is, the Big Easy is easy to get to, and the city has long been on the gay map as a place to see and be seen. Ditch the beach for the bayou, and remember to pack the rosary.
For more information, go to halloweenneworleans.com.
Steele Luxury Travel can assist with all of your travel planning to the city of Indulgence! Visit
www.SteeleTravel.com
for more information!