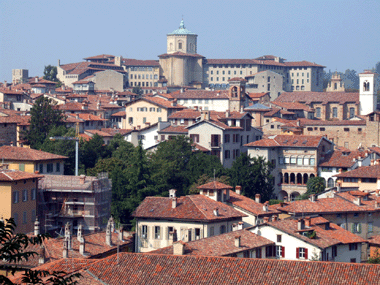 Medieval walls, ancient gardens, Romanesque basilicas—why, it's Florence.
Actually, no. It's Bergamo. Nice try, though.
Bergamo, about 25 miles outside of Milano, is one of those unsung treasures everybody misses simply because some place else is bigger. Here is the "big" secret: Venice, Rome, and Florence are been-there-done-that. So much so that the price gouging is taken to a high art. Bergamo, perched at the foothills of the Alps (literally, they are right behind the city), give you the exact kind of punch a tourist draw would without all the tourists, faux "Italianism," and bleed on your wallet.
Like a lot of old cities, the higher up you go, the older things get. Bergamo started out as a very well defended Roman city on a butte, made all the more a stronghold after the Venetians built the city wall 1561. Those walls stand intact today, and are a great place to get a feel of the old city, the Cita Alta. The Plaza Vecchia, overlooked by the Civic Tower (best views of Bergamo) or grand Basilica of Santa Maria Maggiore are also good starting lines, or stopping ones, for that matter.
"Modern" is a relative term in Europe, but the newer section of Bergamo began to appear on the plain below the Cita Alta in the 14thcentury, and dozens of stairways wind their way down the hillside from upper Bergamo to lower, and they are a real treat. Too steep to build anything substantial, the city inhabitants turned the slopes into tier after tier of gardens, making a springtime trip to the city a must—the Cita Alta seems to be floating on a cloud of flowers.
Be prepared to do a lot of walking (and no just up and down a few stairways) once you set up shop. Bergamo rose in a time of carts and donkeys, so the streets are about as wide as an alley, so the older the city section is, the less likely you are going to get a cab. This is the definition of a "walking city," which is more fun than you would think. Walking gives you the opportunity to take the city slowly, which is the best way to do Bergamo. And you find some great little cafes when on foot.
But if you feel like you need to put your feet up, the gay scene is alive and well: Pit Stop and Mamo's are the best bets club-wise, but if you want to ratchet the diplomacy up a notch, The City Sauna may be more your thing.
A final tip: Bergamo, being an outlying city, isn't a hub. Major airlines don't fly to it, but a lot of local ones do. Air Dolomiti is your best bet, and one of the best regional flyers in Europe.
Steele Luxury Travel is here to help you book your flights and trip to Italy!
Contact us at
info@steeletravel.com
for more details!