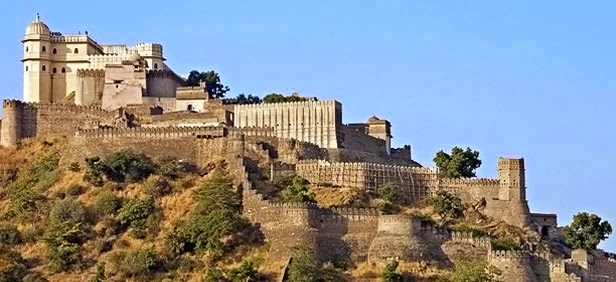 Here's the ugly secret: China does not have dibs on big walls. After all, you have Offa's Dyke, Hadrian's Wall, and the Antonine Wall in the UK, the Anastasian Wall in Turkey, and the Serpent's Wall in Ukraine. You can find such fortifications all over the Old World, from end to end.
Kumbhalgarh Fort is India's entry in the game. Located in the state of Rajasthan in the arid west of the country, this is not a little stand-alone blip on the landscape that you see in Game of Thrones — Kumbhalgarh's walls are over 23 miles long, and the frontal walls (those on the "attack side") are a whopping 15 feet thick. And just for the record, only the continuous length of the Great Wall of China is longer.
But not necessarily better. The fort and its don't-mess-with-me defenses was part of a line of garrisons built by Rana Khumba, ruler of the Mewar kingdom, in 1443.
Made even more impregnable by thirteen surrounding mountain peaks, guarded by seven heavily fortified gates that were suicide runs to assault, and seven ramparts strengthened by rounded bastions and immense watchtowers,
such was its strength that Kumbhalgarh, unlike the Great Wall, was never taken by force of arms; the one and only time it fell was when an invading army led by Akbar the Great cut off the drinking water and dehydrated the defenders into submission.
Continually in use from the 15th century to the 19th, Kumbhalgarh Fort sits on a mountaintop 3,600 feet above sea level, an elevation that gives commanding views all the way to the dunes of the distant Thar Desert, not to mention the immediate countryside. Such is the size of Kumbhalgarh that it functioned like a regimental town; within the walls, visitors are gobsmacked by 360 Hindu and Jain temples and the
Badal Mahal Palace. Rebuilt by King Rana Fateh Singh of Mewar in the late 19th century, the palace is a welcome respite to the rest of the fort. Unlike the military grimness that dominates
Kumbhalgarh
— it was made for war, after all — the palace offers up room after room decorated in cool greens, whites, and turquoise, to offset the summer heat.
Today,
Kumbhalgarh is somewhat out of the way. Udaipur is the nearest city, and most trips to the fort involve tours or hired taxis, but a few intrepid visitors trek the 52 miles between the two as a safari. Surrounding the fort is the vast Kumbhalgarh Wildlife Sanctuary, home to hyenas, jackals, wolves, and peacocks. Stick around for nightfall, when the fort is illuminated; the surrounding landscape is so dark that Kumbhalgarh seems to float on air.
For more info, go to rajasthaninfo.org/kumbhalgarh.htm.

 

Steele Luxury Travel is pleased to assist you with all of your travel needs to India and beyond.

 

Visit www.SteeleTravel.com.