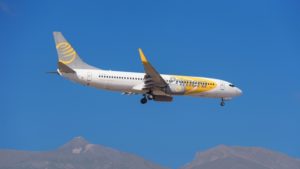 European airline Primera Air announced it will cease operations Tuesday.
"On behalf of Primera Air team, we would like to thank you for your loyalty," the carrier said on its official website. "On this sad day, we are saying goodbye to all of you."
The October 2 shut down comes just months after Primera Air officials announced the carrier's continued expansion into the United States market with flights from Brussels to top American destinations such as Boston, New York City and Washington D.C.
Earlier this year, Primera Air launched six flights from the U.S. to Europe, but some of the routes were canceled before debuting and others were served by outdated planes. The airline blamed the issues on late deliveries from Airbus and weak demand.
According to The Independent, the surprise closure of the carrier left thousands of passengers scheduled to fly with Primera stranded in North America and Europe. As a result, London Stansted Airport impounded at least one of the airline's planes.
No information was provided on refunds and customers were being advised to contact their travel agents.