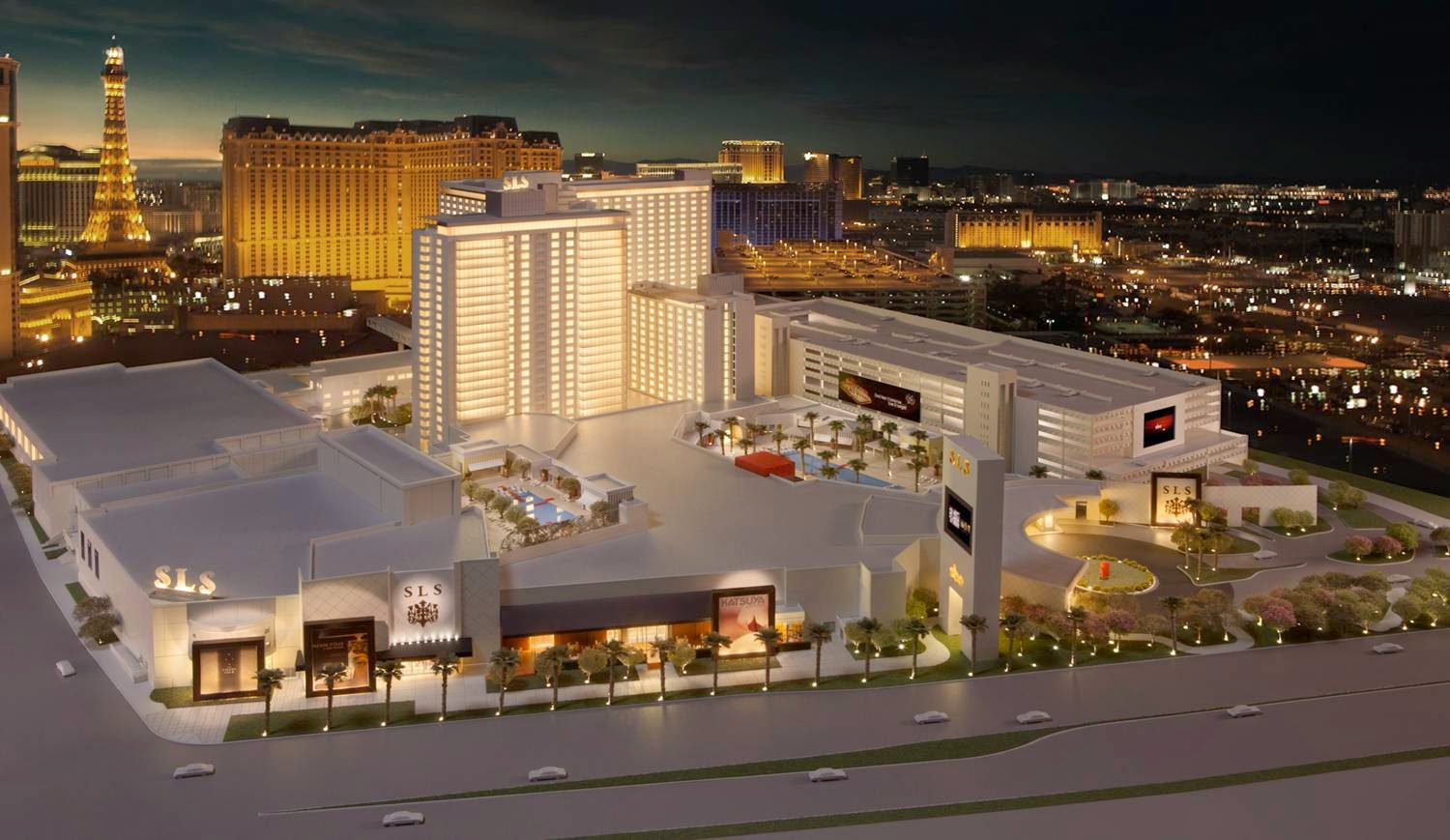 When SLS Las Vegas, a property courtesy of Los Angeles-based entertainment company sbe, debuted on Aug. 23, expectations were extremely high.
Not only did sbe and SLS Hotels have a strong reputation, but this was Vegas, a city with myriad options for guests. In Vegas, if you don't like a hotel, you can basically walk a block and find something to your liking.
But SLS Las Vegas has reached the peaks of those sky-high expectations and continued climbing. Bolstered by a vibrant day and night life, some delectable dining, a large casino and elegant rooms, sbe certainly took the creation of SLS Las Vegas seriously.
Here's a look at the new property, via a tour TravelPulse took through the Las Vegas Convention and Visitors Authority (LVCVA).
Dining
SLS Las Vegas has nine—yes, nine—restaurants.
My media group was treated to the Griddle Café.
First and foremost, the Griddle Café has gigantic pancakes, ranging from banana (or "Banananana") to peanut butter to a butterscotch, caramel and walnut original called "Yellow Brick Road."
Second of all, it's one of the few places I know of where you can have giant gourmet pancakes, chips and guacamole, and a burger on your table at one time (I had a burger called "The Broken Heart" with artichoke hearts, scallions, Parmesan cheese and spicy aioli that was mouth-watering).
The Griddle Café is also open 24/7. It's kind of like the Denny's you go to when you actually value your life and your dignity.
A little advice: This is not for the faint of stomach. You are going to eat a lot of pancakes; it's a given (your stomach will tell you "no!" but your taste buds will tell you "keep going!"). Let's just say that I'm glad we had a guided tour of SLS Las Vegas after the meal because a) I needed to walk it off and b) I had a respectable food coma and I'm pretty sure I was just following our guide in a trance, not really knowing where my feet were taking me.
Insider tip: There is a scratch and sniff wall right next to the entrance of the Griddle Café. Try it out.
Rooms
There are three towers inside SLS Las Vegas: Lux, World and Story (the original tower of the property).
We checked out a Lux King room first (rooms range from 425-465 square feet). The King rooms come complete with a 55-inch HD TV. They either have open showers or "peek-a-boo" showers (peek-a-boo showers have a curtain that drapes in front of the shower). Standard and rain-shower heads are included. The room is mainly white with soft tones and strives for elegance.
e also checked out a Story King room. Story King rooms encompass 325 square feet. There are several elements that stand out, including a mirror on the ceiling above the bed, a signature "Saints and Sinners" snack tray (which will you be?!) and an unpainted concrete ceiling that gives the room a little character. Oh yeah, and the bathroom is completely hidden by sliding doors. When they were opened during our tour, I was honestly hoping for a secret tunnel, but the luxurious and stylish contemporary bathroom before me did just fine.
Casino
SLS Las Vegas features a 60,000-square-foot casino.
Within this casino lies 800 slot and video poker machines, 70 table games, a race and sports book and the intimate and private High Limit Salon. The sports book features 50 TVs, the popular restaurant Umami Burger and an outdoor beer garden.
You can also sign up for online gaming, or "iGaming." Register for an exclusive SLS membership called THE CODE and link to your iGaming account and compete to earn and redeem prizes in Vegas.
Day & Nightlife
If you haven't heard, day and night clubs are all the rage these days.
And Foxtail and LiFE at SLS Las Vegas are standouts among day and night clubs.
During the day, treat yourself to Foxtail's day club, Foxtail Pool Club. The pool area is similar in style to Los Angeles and Miami pools (somewhat of a mesh), complete with 26 cabanas and 31 daybeds. There's a bar in the center of the pool where you can order custom cocktails and food ranging from American classics to seafood.
At night, Foxtail really comes alive. Designed by Philippe Starck, the 8,000-square-foot indoor space includes elaborate chandeliers (in fact, the chandeliers throughout SLS Las Vegas are eye-catching), the latest in LED technology, 28 VIP tables, blackjack tables and dancer cages.
But what really caught my eye was the intricate and fascinating street art painted on the walls by young calligrapher Tarek Benaoum. It's pretty amazing that Benaoum was responsible for all of the wall art. He had to hang upside down like Michelangelo to get the ceilings.
On top of this, the side of the parking garage and one of the hotel towers adjacent to the pool area are lit up with 3D visuals at night. Any visuals can be displayed, from stylish designs to video.
There's also LiFE, another day club/night club. During the day, check out the venue's 10,000-square-foot rooftop pool, complete with cabanas and daybeds. At night, experience a 20,000-square-foot indoor venue with a large LED wall, high-tech lighting, three full-service bars, a Funktion-One sound system and 70 VIP tables. Oh yeah, and acrobatic aerialists sweep above you on rigging, zip lines and catwalks throughout the night. There's that, too.
LiFE nightclub
SLS Las Vegas also boasts the Sayers Club, an intimate venue featuring a stage for live music, lounge seating and an outdoor patio overlooking the Las Vegas Strip. There is a bar both inside and outside. For those who enjoy intimate music venues, this is a spot you need to check out.
There are two bars: Center Bar and Monkey Bar. Monkey Bar has a bunch of pictures of monkeys in suits adorning the walls. In fact, the monkey is SLS's official mascot, if you will. It's a tribute to the primate's curious nature, playfulness and intelligence.
Steele Luxury Travel
www.SteeleTravel.com