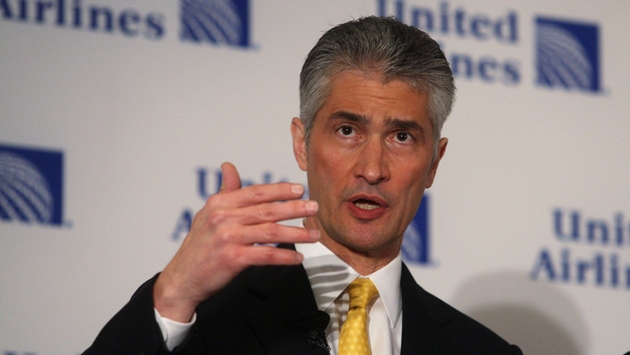 By Rich Thomaselli
United Airlines CEO Jeff Smisek and two other executives have resigned yesterday, effective immediately, over what the airline said was "in connection with the company's previously disclosed internal investigation related to the federal investigation associated with the Port Authority of New York and New Jersey."
United said in February it was investigating what appeared to be a very cozy relationship with former Port Authority Chairman David Samson. Samson owned a home in South Carolina; United launched service with three weekly flights from Newark Liberty International Airport to South Carolina in September of 2012, a year after he became chairman, and dropped the service in March, three days after Samson resigned.
United said its executive vice president of communications and government affairs and its senior vice president of corporate and government affairs have also stepped down.
The investigations are ongoing and the company continues to cooperate with the government, it said.
United said Oscar Munoz has been named as president and chief executive officer. Munoz will also continue to serve on United's board of directors. The board appointed Henry L. Meyer III, United's lead independent director, to serve as non-executive chairman of the board of directors.
"Oscar's track record demonstrates that he has the right blend of strategic vision and strong leadership to continue United's upward trajectory," Meyer said in a statement. "United is well positioned to continue executing on its strategic plan to further improve performance and the value and service it provides to its customers. I'm honored to have been elected non-executive chairman by my fellow directors. The board thanks Jeff for his service to both United Airlines and Continental Airlines."
Munoz has previously worked with AT&T, Pepsico and The Coca-Cola Company. He most recently served as president and chief operating officer of CSX Corporation.
"It is truly a privilege to serve as United's CEO. United has an incredible opportunity for improving an experience that is essential to the vitality of global business and to the personal lives of millions of people, for innovation, and for earnings growth," Munoz said in a statement. "In my years serving on the board, I have been impressed by the dedication and skill of my new coworkers. Together, we will make United the top-performing airline."
Steele Luxury Travel
www.SteeleTravel.com