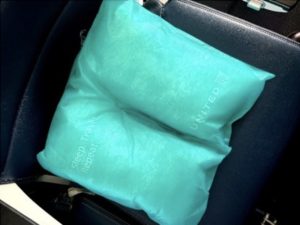 It is rare to see soft product enhancement during the pandemic, particularly in economy class, but United Airlines is trialing pillows which appear to be a genuine upgrade.
New Multi-Use Pillows In United Airlines Economy Class
Earlier this month, United debuted new pillows in economy class on its flights to Israel. Available on flights between San Francisco/Newark and Tel Aviv, the new pillows are are being tested before potentially expanding to other routes.
The new pilots are "multi-use" and can be used as a:
Standard pillow
Neck pillow
Lumbar support (when folded in half)
Whether United ditches these pillows or expands them to more international flights will depend upon feedback from flight attendants and passengers.
The pillows bear the United logo and as well as the phrase "Sleep. Travel. Repeat." That will likely make them collector's items and prime targets for onboard pilfering.
Unlike some of the premium bedding amenities in Polaris business class, these pillows will be provisioned at 100%, so you won't have to worry about asking for a pillow: it should be right on your seat as you board.
CONCLUSION
It's nice to see an upgrade in the midst of all the cutbacks. Based on the pictures above, these may save us the need to bring our own neck pillows when traveling in longhaul economy class.
And if United can find the budget to upgrade pillows, hopefully it will soon find the budget to restore meal service to pre-pandemic levels!