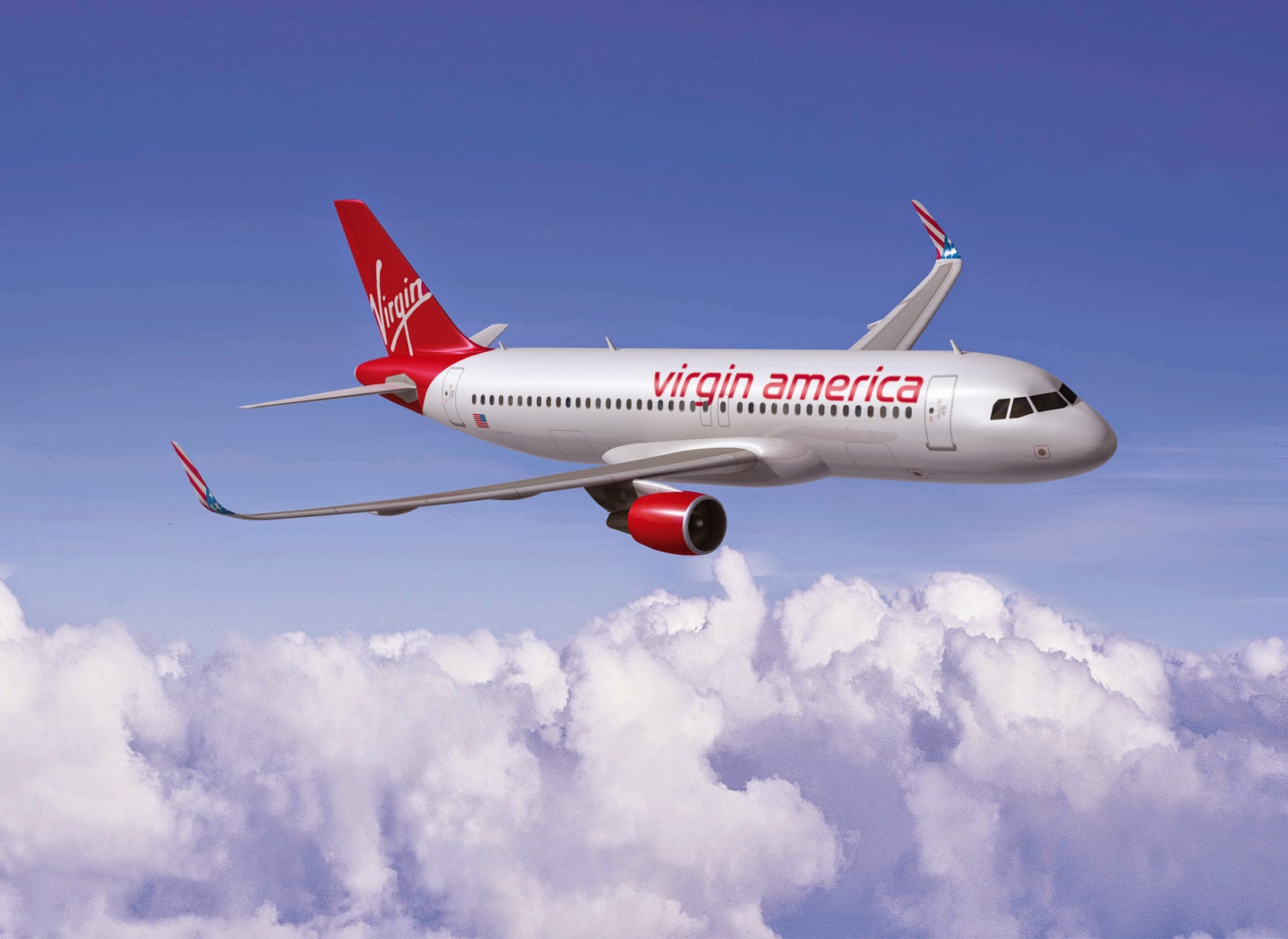 Travel + Leisure's Best Food Award-Winner Unveils New Seasonal Menus and New Onboard Wines
San Francisco – September 17, 2009 –Virgin America, the California-based airline, today announced new fall seasonal menus that offer travelers a varied, upscale selection of fresh meal and snack options at any time during their flight. Virgin America is the only airline in the U.S. with a touch-screen seatback menu (Red™) that allows guests to order what they want, when they want it, during a flight. Virgin America has captured a list of travel industry best-in-class awards for its innovative service, including most recently the award for "Best Domestic Airline for Food" in the prestigious Travel + Leisure Annual World's Best Awards readers' survey.
"Our evolving menu is designed to give travelers fresh, convenient options they can order any time right from their seatback – without having to worry about grabbing something more expensive on the concourse," said Virgin America Senior Vice President of People and In-Flight Frances Fiorillo. "Now more than ever people deserve more for their money, and given the latest Travel + Leisure survey results, we think that's why travelers seem to be gravitating to our Red in-flight menu."
Red's Main Cabin menu includes a new eclectic and healthy selection of on-demand meals and snacks. First Class guests will find a new fall menu designed exclusively for Virgin America by world-renowned Chef Luke Mangan. In keeping with the airline's California roots, both menus focus on organic and locally-sourced ingredients, including fresh produce, premium meats and artisan breads. First Class guests can now also choose from an expanded range of world-class wines, including new varietals from Sonoma's St. Francis Winery & Vineyards. In July, Global Traveler magazine rated Virgin America's in-flight wine selection as the best among North American airlines.
The First Class menu will vary by route, but includes some of the following selections:
Breakfast:
Green tea citrus fruit: Refreshing selection of kiwi, orange sections, mango, strawberries, blueberries, blackberries and raspberries marinated together with green tea, honey and fresh mint.
Herb omelet on grilled challah: Farm fresh egg omelet cooked with fine herbs, served on grilled Challah bread with olive tapenade, with salad of California Heirloom tomatoes tossed with basil, olive oil and feta.
Bircher muesli with fruit and honey: A classic breakfast dish of rolled oats, granny smith apple, passion fruit, dried apricots, dried figs, toasted hazelnuts, farm fresh yogurt and milk, served with fresh blackberries, blueberries and strawberries and honey served on the side.
Fruit and cheese plate: Selection of cheeses, including hand-cut brie, aged cheddar, havarti and smoked gouda, with pumpernickel rye. Garnished with raspberry, blackberry, grape-tomatoes and baby frisée.
Summer fruit bowl: Selection of fresh hand cut mango, watermelon, plum wedges and blackberries, served with a fruit skewer of fresh cut juicy pineapple, kiwi fruit and strawberry.
Tomato and mozzarella omelet with pork sausage: Farm fresh egg omelet folded with fresh herbs, fresh mozzarella and roasted yellow tomatoes served with crisp apple wood smoke bacon strips, grilled pork sausage links and a zesty tomato and chili compote and fresh cilantro.
Spanish egg and potato tortilla: Classic Spanish potato and baked egg frittata with onions, cream and parmesan cheese. Served with a toasted buttery English muffin and poached asparagus and a hollandaise sauce infused with blood oranges.
Bake Onboard Croissants:Golden brown croissants freshly baked in-flight.
Lunch/Dinner:
Filet of beef with mushrooms, asparagus and broad beans: Juicy seared filet of beef topped with wild mushrooms and wrapped in a light, crisp feuille de brick pastry and baked until golden brown, served with balsamic-glazed tomatoes, asparagus and farm fresh fava beans, finished with a natural jus.
Baked eggplant with zucchini, tomato, basil and mozzarella: Fresh eggplant dipped in farm fresh egg flour and Japanese bread crumbs, sautéed in olive oil until crisp, layered with herb-grilled zucchini, yellow squash, vine-ripened tomato slice and baked with fresh mozzarella. Served with a basil and tomato sauce.
Naan tandoori chicken: Free range chicken marinated in tandoori spice, yogurt, lime juice and ginger, served with whole wheat flat bread, tangy mango chutney, pickled red onions, fresh cilantro and yogurt.
Pork medallions with honey glazed apples: Seared medallions of pork tenderloin topped with honey glazed apples and figs, served with oven roasted potatoes and fresh broccolini.
Grilled vegetables with balsamic glaze:Seasoned and char grilled fresh cut zucchini, eggplant, sweet carrot, red pepper, asparagus and red onion served with a zesty balsamic vinegar reduction.
Roast turkey breast with sage stuffing:Oven-roasted turkey breast with sage stuffing served over ginger-infused sweet potato puree and topped with flat leaf parsley, dried cranberries and preserved lemons.
Zucchini frittata with roasted tomato and corn salsa: Farm fresh egg frittata made with fresh zucchini, red onions, chives and pecorino cheese, topped with a roasted tomato and corn salsa with basil, lime juice, broccolini and snipped chives.
Dessert:
Raspberry or blueberry clafoutis: Rustic French country dessert made with fresh raspberries or blueberries, amaretto and almond all baked until golden brown and served with crème anglaise.
Virgin America's new seasonal fresh menu in the Main Cabin includes the following options for fall (prices range between $7 – $10 in Main Cabin, and options are complimentary in Main Cabin Select):
Bagel, fresh fruit and yogurt: Fresh-baked plain bagel served with cream cheese, strawberry preserves, yogurt and fresh tropical fruit.
Fruit, vegetables and cheese plate: Selection of cheeses, including muenster, aged cheddar, creamy hand-cut brie, provolone and fresh mozzarella, complimented with red grapes, kalamata olives, cherry tomatoes, artichokes and crackers.
Chicken pesto hand roll: Cool cucumber tortilla flat bread filled with a basil pesto cream cheese, grilled julienne chicken breast, thin-sliced crisp cucumber, ripe roma tomatoes, yellow bell pepper, green leaf lettuce and baby frisée. Served with an Italian pasta cobb salad and Toblerone chocolate.
Banh mi flat iron beef sandwich: A traditional street-vended Vietnamese sandwich made of grilled Asian marinated sliced flat iron steak with shaved cucumber, green leaf lettuce, baby frisée, fresh sprigs of cilantro and topped with a Vietnamese slaw of julienne carrots, daikon radish and red onion. Asian ginger dressing served on the side.
Veggies with chatpata chana and raita dip: A healthy selection of Mediterranean dips served with crisp carrots, broccoli and cauliflower florets, sweet red and yellow bell pepper, cucumbers, daikon radish, sugar snap peas, grape tomato, kalamata olives, a stuffed grape leaf. Served with Stacy's Pita Chips.
Virgin America flies to San Francisco, Los Angeles, New York, Washington D.C., Seattle, Las Vegas, San Diego, Boston, Orange County and as of Nov. 18, 2009 – South Florida (Fort Lauderdale).
The airline currently offers daily flights from: SFO to LAX, SFO to JFK, SFO to SAN, SFO to IAD, SFO to LAS, LAX to JFK, LAX to IAD, SFO to SEA, SEA to LAX, JFK to LAS, BOS to LAX, BOS to SFO and SFO to SNA.
Virgin America has flown more than five million guests since its inaugural flights in August 2007.
Steele Luxury Travel
www.SteeleTravel.com