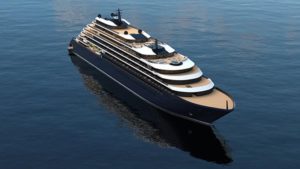 The Ritz-Carlton is taking its legendary service and unmatched luxury to sea. Beginning in 2019, The Ritz-Carlton Yacht Collection will offer bespoke cruises on the first of three lavishly built yachts.
Each custom-built yacht offers an intimate journey with space for only 298 guests. Accommodations feature 149 suites, each with its own terrace, including two luxurious penthouse suites. As with The Ritz-Carlton on land, cruises feature:
Thoughtfully designed, modern interiors
Destination-based activities with local chefs, artists and musicians
Luxury amenities including The Ritz-Carlton Spa
Elevated dining including a restaurant from Sven Elverfeld of Aqua, the three Michelin-starred restaurant at The Ritz-Carlton, Wolfsburg, and Panorama Lounge
Most voyages range from 7 to 12 nights and include intimate and signature destinations alike with many overnight calls. The first yacht sets sail in 2019; reservations open May 2018.
Each unique, custom-built yacht features 149 suites with private terraces and several innovative duplex suites
Elegant interiors reflect a joint effort between The Ritz-Carlton and Tillberg Design of Sweden, among the world's leading ship-design firms
Experiences include dining from a three Michelin-starred chef, musicians and artists, a spa and journeys inspired by ports of call